Kayaking
TRIP #1 – 7 MILES / 2 HOURS
Our most popular trip. Journey to Frye's Landing (named in honor of Dick Frye, the founding father of canoeing in Ohio) where we will transport you back to your car. In the off-season, please give us a call for river trip times. *In our off-season, our 7-mile trip will possibly run from Perrysville to Loudonville on an alternate route.
TRIP #2 – 15 MILES / 4-5 HOURS
If you want to make a day of it, then this is the trip for you. We transport you upstream at the top and bottom of the hour and you float back to your car to avoid waiting on a shuttle. In our off-season, please give us a call for river trip times.
*Due to new state regulations, we have decided to not allow the hauling & launching of private boats or inflatables from our property. We're sorry for the inconvenience.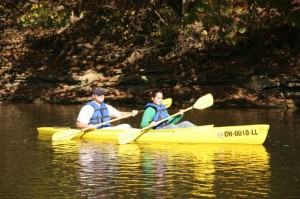 Kayak Trip Pricing
TRIP #1 – $25 per person
TRIP #2 – $33 per person
Single and Double Kayaks available!
RATES: Sales tax of 7.0% is not included in rates. We do not accept personal checks. Rates and availability times are subject to change without notice. Summer times are Memorial weekend to Labor Day weekend
Gallery
Click image to see more photos!